Following on from part 1 in this series of top tips for amateur wildlife photographers, in this blog I want to cover how you can make the most of your surrounding area for wildlife photography.
I think this is particularly important for an amateur wildlife photographer as, if you are anything like me, you won't find many opportunities to photograph exotic species in far flung places. When you're short on time (and budget), your local patch may be the only option you have for photography.
I don't think this should be seen as a bad thing. If you can take advantage of the opportunities in your local area, however small they may seem, you can improve as a photographer and develop your knowledge of wildlife.
1. Stay close to home
Your local patch may not necessarily be on your doorstep, but you should make sure it is only a short distance away or, at least, that it is easily accessible. If you have a back garden or other green space close to your home, this may be your best option. However, a local nature reserve that you are able to get to without too much effort is also worth considering.
My local nature reserve, Rye Meads, is a short walk and a 10 minute train journey away. There are green spaces closer to me but I feel that this reserve is worth the slightly longer journey due to the diversity of species present there. The journey never puts me off going there or takes too much time out of my photography.
However, I should note that the limitation of some nature reserves is that they have restricted opening hours. This means that photography at ideal times, such as dawn and dusk, may not be possible. This is when the humble back garden is great. It is worth considering all these elements when deciding upon the specific locations that make up your local patch.
Why does your local patch need to be as easy to get to as possible? Because you need to revisit it as often as you can.
2. Revisit often
The idea of a local patch is that you are able to keep returning to it. It should be your go-to place when you have a few hours free for wildlife photography and you should revisit it as often as you can.
By returning to the same location repeatedly you can monitor changes in the flora and fauna throughout the seasons, such as fledglings in spring, the changing colours of autumn and changes in species behaviour and appearance. Repeat visits allow you to photograph all these subtle changes, whereas with occasional visits you may miss them.
3. Take note
Making notes of what you see and hear on your local patch can be really useful for tracking changes in the seasons and in wildlife behaviour such as migrations and fledging times.
Obviously you can use a good old fashioned notebook for this and there are special wildlife recording notebooks available from places like the RSPB.
There are also apps for smartphones that can be used, such as Bird Journal. However, if you want to use your smartphone you can always use simple note taking apps such as Evernote and Trello, which can help organise your notes easily. Don't forget your smartphone camera for taking quick photos and videos as notes.
4. Find a subject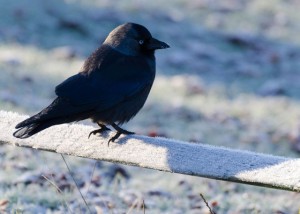 Once you have your local patch decided and you're regularly visiting, it is worth finding a subject at that location to focus your attention on.
This could be a particular species, however mundane you think it is – remember that many people tend to photograph more 'exotic' wildlife and tend to ignore the everyday. It could be a location within a reserve, such as a hide, or an area within a park, such as a lake.
This will give your photography a focus (please excuse the pun) and ensure that you don't waste valuable time just trying to 'snap' everything you see. Finding a subject ensures that you slow down and think about what you want to include in the frame and for what purpose.
You can then create a photography project from this. I have found this useful for not only developing my knowledge of a species/area but also in building up a portfolio of images on a common theme. This encourages me to experiment as I want to show something different with each image. When you choose your species, such as one that visits your garden regularly, do your research into its behaviour to work out the images that you want before you go out with your camera.
5. Join with others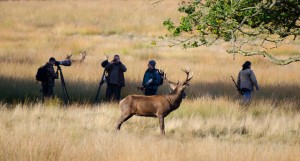 There will be plenty of opportunities to join up with other people on your local patch. If you're visiting reserves, they often have volunteering vacancies or just need casual help. There are local birding and wildlife watching groups that you can join. It is also worth looking up photography clubs in your area that may organise group trips to your local patch. Alternatively it is easy to strike up conversations with other photographers when you meet them on your patch.
Not only can these activities help to build your knowledge of the local area, but they also allow you to make connections with people with a shared interest. Photography and wildlife watching can be quite a singular pursuit and sometimes it's nice to spend time sharing your passion, and your local patch, with others.
Fancy helping out on a practical work party? We have 4 on Sunday, all welcome – info here: http://t.co/tjNroMwFvv pic.twitter.com/2lYHsVc8Kj

— Herts Wildlife Trust (@HMWTBadger) March 24, 2015
Share this Image On Your Site
Do you have any top tips on making most of your local patch for wildlife photography? I'd love to hear them.
Coming soon: Part 3 of this series of tips will be on making the most of your time in the field.